OUR PHYSICIANS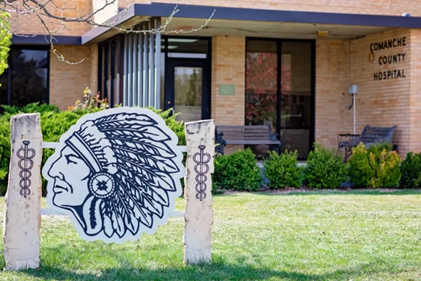 MISSION STATEMENT
The Mission of Comanche County Hospital is to work together to provide the finest healthcare for everyone.
OUR PHYSICIANS
---



Dr. Schowengerdt



Dr. Schowengerdt, a Family Practice physician, graduated from KU School of Medicine and completed his residency in 1992. He began working at Comanche County Hospital in 2006. Dr. Schowengerdt went in to health care because he enjoys the science of the human body and enjoys helping people feel their best. Dr. Schowengerdt loves the challenges of rural health care. Resources can be limited, but it challenges the skills and mind of the provider to try to figure out what is going on with the patient. The community has shown a lot of support in our facility and staff and I have enjoyed my time here serving this area and getting to know my patients and their family.
Dr. Stanford
Dr. Stanford, a General Practice physician, joined our team in 2014 after graduating from KU School of Medicine in 2011. "I went into the medical field because patient problems are the goals of care. I had a strong desire to utilize my molecular biology, pharmacology, genetics, and anatomy training to help others by diagnosing and managing acute and chronic diseases. I like to say that in medicine there is a stable system to work on- the human body, well designed and self healing. Medical practitioners are just here to help natural processes repair body systems." In regards to rural health care " We get to see a broad spectrum of patients and problems. We get to know our patients fairly well and provide more comprehensive care. We get to see several generations of the same family. This community focuses on conservative and family values and supports the hospital and its staff. It is quiet and friendly and has a sense of community, not like in a big city.'
OUR NURSE PRACTITIONERS
---
Melanie Dunn

Melanie Dunn, APRN has enjoyed a busy career at Comanche County Hospital since 2000. After graduating from Fort Hays State University with her BSN, she completed her graduate studies from KU. "I went into the medical field because I love people. I have always loved listening to people and trying to help them solve their problems-medically, emotionally, and spiritually. We only get one life and I want to do my part to help people make the most of the life they have. Rural health care is scary because our resources tend to be limited, the issues we are exposed to are of a wide variety, and the people we take care of are our friends and our family. But rural health care is amazing, because we get to truly know our patients not only behind the closed doors of the exam room, but also on the streets, in the aisles, at the dinner tables, and in the bleachers and pews within our community. Our community is small and quiet. The people have good hearts. You can always count on people to step up to help the struggling, give encouragement when it is needed, and do what they can to support and love the other people that also call this community home. "

Ashley Alvarez
Ashley Alvarez, APRN started her career with Comanche County Hospital in September 2013 after graduating from Wichita State University in August 2013. "In high school, I took a Certified Nursing Assistant course and got experience working as a CNA. It was during that time that I realized I really enjoyed taking care of people and knew I wanted a career in the medical field. Rural health care has many positives and also many challenges. I love the time I get to spend with my patients and getting to know them and their families. The biggest challenge I see is that specialty care is not as convenient. If I refer someone to a specialist, it takes time to get a consult complete, and I know that is hard on the patients! I have loved being a part of this community and serving those around me. I love how everyone is willing to take care of one another and really step up when others have a need."