Covid-19 Information March 24,2020
I would like to thank each, and every employee of Comanche County Hospital and Medical Clinic for their tireless preparations and invaluable input during our Covid-19 preparation process.
The following is an Update to our Communities regarding changes we currently have in place:
-Patient Visitors are limited to one immediate family member in the patient room at a time. No person under the age of 18 may visit at this time.
-The Protection Clinic will be closed until further notice.
-Coldwater Clinic – Appointments must be made by telephone so you will be properly screened before your appointment. Walk-In patients are not allowed at this time. Call 620-582-2136 for an appointment.
-The exercise room is closed until further notice.
-We are currently screening individuals outside, at the front entrance of the hospital between 7:00 a.m. – 5:00 p.m. After hours, please ring the bell and someone will assist you.
-As of this post, we have not had any patients meet the criteria for Covid-19 testing.
I realize how difficult all of the restrictions and changes are for everyone. I want to thank you for doing your part. Please read and share all information put out by our local health department and emergency manager. We must all stay informed and share information with others.
Thank you,
Lisa Brooks
Administrator
Comanche County Hospital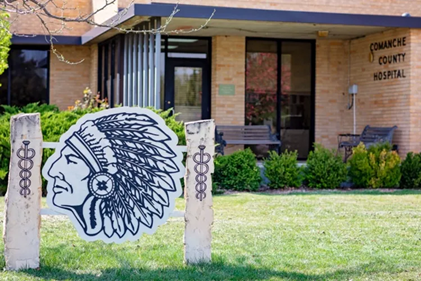 MISSION STATEMENT

The Mission of Comanche County Hospital is to work together to provide the finest healthcare for everyone.